Running your AC will definitely keep you cool during the summer months. Constantly running the AC on full blast will also increase your electric bill. The solution is a tool called the FC Pro Air Circulator Utility Fan created by XPOWER. These units are energy efficient, have incredible CFM ranges from 1100 to 3600 and can later be used in colder months to circulate heat. In fact cooling off is about air movement, not just reducing temperature. With that in mind here are some ways to keep your house cool during summer season and lower your energy costs as well.
1. KEEP BLINDS CLOSED
Thirty percent of heat comes in through windows. By keeping the shades drawn, indoor temperatures are lowered by at least 20 degrees. The same applies to utilizing black-out curtains to block out heat from your home.
2. CHANGING OUT YOUR BED SHEETS
Changing out bedding creates a fresher and cleaner feeling all together. Switching over to cotton linens will keep you cooler. Buckwheat is another viable option for linens as this fabric won't hold onto your body heat.
3. COOL DOWN PULSE POINTS
Applying something cool to your pulse points will help to lower your body's temperature. When your core temperature is cooler, you are cooler and more comfortable.Apply a cold compress or even a frozen water bottle to wrists, neck, elbows, ankles, behind knees and feet.
4. LIMIT THE SOURCES OF HEAT IN YOUR HOME
Using electrical devices in your home contributes to the amount of heat that it contains. If possible, when cooking use a crock pot or microwave or even grill instead of turning on the oven which will warm up your entire home. Wash dishes by hand instead of running the dishwasher. Unplug electronics after use to reduce inside temperatures by halting the excess heat that is being generated inside of your home.
5. REDUCE HUMIDITY BY UTILIZING DEHUMIDIFIERS
Humidity refers to the amount of moisture that is locked in the air. When heat temperatures rise, the humidity level rises as well. Reduce temperatures to the dew point. This is when gas is turned to liquid. By reducing to the dew point moisture will be drawn out of the air, eliminating that muggy and uncomfortable feeling. This is where a dehumidifier comes in handy. Conveniently enough, XPOWER also carries a variety of Commercial dehumidifiers. You're welcome.
6. CHOOSE AN AIR CIRCULATOR OVER A TRADITIONAL FAN
XPOWER has a line of professional grade FC Whole Room Air Circulator Fans that you are sure to love. These fans will cool the space with continuous whole room circulation. What is the difference between a circulator and a traditional fan you ask? Happy to tell you.
The POWER of XPOWER
Traditional fans can only cool off the person or object that the fan is directly pointing at. They do not actually cool off or change the whole room's temperature. An FC Air Circulator Fan from XPOWER will keep the air in constant motion creating a more comfortable and cooler environment around you. When air is circulated, hot spots are removed and a more constant room temperature is created. Most fans lack the technology to keep air in motion. XPOWER's FC line of fans have the capacity to operate at a 360 degree angle and has a rated airflow ranging from 1100 CFM to 3600 CFM. Now that's a lot of air!!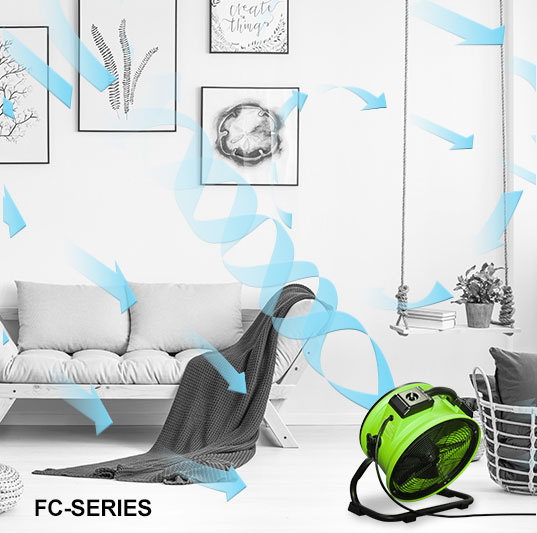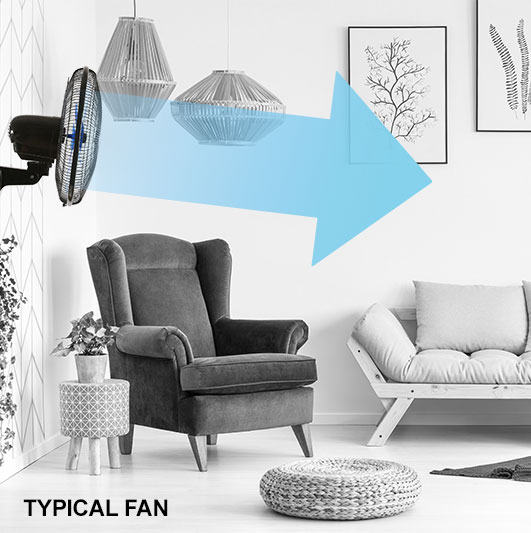 XPOWER'S FC series is so incredible due to its unique spiral grill and deep –pitched blade design.These details allow for an extension of complete and continuous airflow up to and over 100 feet. These units are also energy efficient and draw up to only 2.8 amps depending on the model you choose.They are designed with polypropylene making them lightweight and durable and even come equipped with a grab-n-go handle to offer easy portability. The power cord can be wrapped around the fan's housing allowing for easy cord storage. These units can also be stacked up to 6 units high for easy and compact storing. The FC Circulator fans include a 4 speed setting option and even have a 3 hour set it-n-forget it timer so that you can conserve even more energy.
In summer months the FC Whole Room Circulator can be used pointed at a running source of cool air like an AC or other air fan. The FC unit will aid in distributing the cool air quicker.It can also be used alone. The rugged rack stand enables a full 360 degree multidirectional air flow. Position properly for maximized air circulation.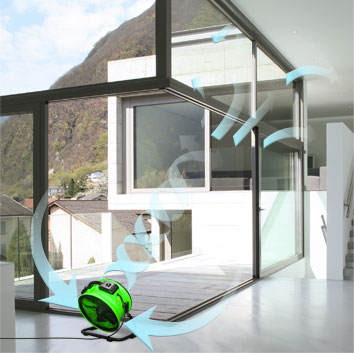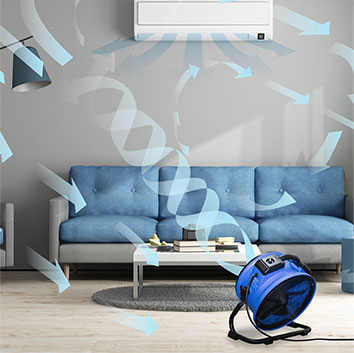 Warm air naturally rises upwards so in cooler months the same fan can be used pointed upwards and in the direction of the heat source. Whether that be a heater or fire place, the FC Fan will circulate the warm air with lower cool air to create an even and warm room temperature.
The quality of airflow that these circulators produce can never be achieved with just any conventional circulator or fan.XPOWER's FC Utility Fan is perfect for cooling not only your home but classrooms, offices, workshops and more. With the unique features of the FC Line, 4 models to choose from and a 1 year manufacturer's warranty you are sure to find the one that is best suited for your desired cooling, and all while reducing your energy bill!